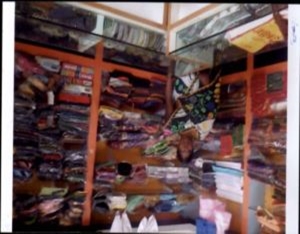 Name: Sujatha, w/o Eeshwar Raj
Village: Parthabad
Taluka: Gulbarga
I am Sujatha, from Farthabad village was living a poor economic life. I had no work to do. My husband was coolie worker. His earnings were not sufficient to run the family. I have two girl children. I was worried about their education. Hence it was a very difficult to live as I had no job to help the family.
The staff from 'Sevasangama' visited me and explained about the SHG concept and told about the benefits of being organized in a group. Without delay I joined without any delay I joined to 'Jnanadeepa' Self Help Group and attended the activities and monthly meetings regularly. As the days went by I learnt about various schemes and aids provided by the Government. I attended many awareness programs and vocational skill trainings. I realized my potential and aptitude towards small scale business. The staff Sevasangama encouraged me and trained me to develop my skills in business management. Meanwhile I began visiting the offices and speaking to officials which developed leadership qualities in me increasing my self-confidence. Slowly the SHG group was linked to bank from which I drew 25,000 loan to start the business.
In the month of December along with my husband, I opened a cloth shop. We were surprised to see that within three months we could gain around Rs 5000 profit per month. In order to increase our profit and extend our business we asked for more bank linkage and Sevasangama provided linkage through the 'Samruddi' finance institute, Bangalore. This help boosted our business and at present we are gaining around 7000 profit per month.
I am very much grateful to Sevasangama which empowered me through WEP project. Now I live my life with lot of confidence and happiness. I am ready to share this life story to many who are struggling in their life and I wish that they too find new hope in their life.