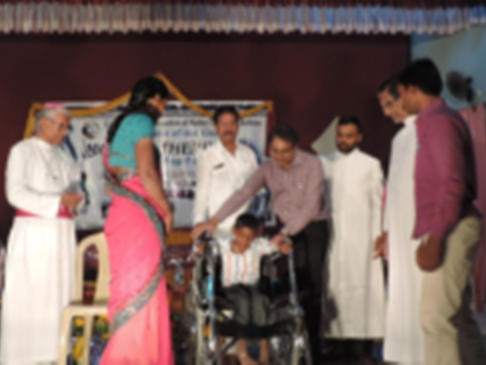 Name : Shanth Kumar
Father: Mr. Sharanappa
Place : Karibosuga
Disability: Cerebral Palsy
Born to a poor couple, Mr. Sharanappa and Rekha, at Karibosuga, Shanth Kumar is the third among three children. He is 11 years old and is suffering from Multiple Disability.Despite of disability he is studying in 6th standard at Karibosuga Government school. Though will prevailed his physical and mental inability challenged his movements. He was in need of a wheelchair.
The CBR staff of Sevasangama identified the child and availed for him Physiotherapy treatment which indeed eased his movements. He was encouraged and supported by Sevasangama, Kaluburgi under CBR program and was given a wheel Chair
Now Shanth Kumar is happy and able to go to school independently with a little support. He gets involved with activities of the school and spends his time with friends and books. His family is also at ease with progress and appreciate their child..